Amazonia and Global Change, the edited compilation of synthesis papers on the Large Scale Biosphere Atmosphere Experiment in Amazonia (LBA), is now available in Portuguese and English. This book synthesizes the results of the LBA research, bringing together the most important new results and the new understanding of Amazonia that has resulted.
The English versions of the chapters can be obtained from the AGU /John Wiley Web site for the book; access is available for those individuals and institutions who have an account.
The NASA Terrestrial Ecology Program funded the translation from English to Portuguese.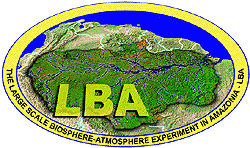 ---
---
Section I: People and Land Change
Seção I:    Sociedade e Mudança da Terra
---
---
---
---
---
---
---
---
Section II: Atmosphere and Climate
Seção II:    Atmosfera e Clima
---
---
---
---
---
---
---
---
---
Section III: Terrestrial Ecosystems
Seção III:    Ecossistemas Terrestres
---
---
---
---
---
---
---
---
---
---
---
Section IV:  Surface Water
Seção IV: Água Superficial
---
---
---
---
---
Section V: Conclusions and Vision for the Future
Seção V:    Conclusão e Perspectiva do Futuro
---