Old Jack Pine Site (NSA-OJP)
---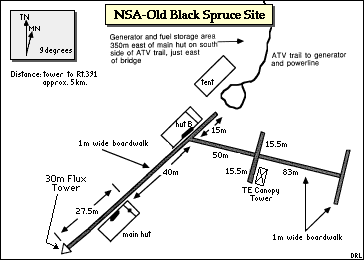 Aerial view of the NSA-OJP site during IFC 2. The Rohn tower and investigator hut are in the approximate center of the image with the generator hut at the extreme upper left. The top of the image is roughly southeast. Lichen understory beneath the canopy is clearly visible.

View an aerial photo-map of the NSA-OJP site.

The dirt road leading to the
NAS-OJP site

Jack pines and ground cover

Laser Ceilometer

Canopy access tower near the road

Base of the SRC Met tower

Rain gauge

SRC Met tower

Flux tower and climber

Hut and Dave Fitzjarrald

Hut and flux tower

The Rohn tower at the NSA Old Jack Pine
site showing the shelter temperature gauges and anemometers
at several heights and flux measuring equipment
on the top.
Back to the BOREAS Photo Page Index
---
Other Sites: NSA Photos ||NSA-BP Photos | NSA-Fen Photos | NSA-OA Photos | NSA-OBS Photos | NSA-OJP Photos | NSA-UBS Photos | NSA-YJP Photos | NSA-Ops Photos
SSA Photos || SSA-Airport Photos | SSA-Fen Photos | SSA-Mix Photos | SSA-OA Photos | SSA-OBS Photos | SSA-OJP Photos | SSA-YA Photos | SSA-YJP Photos | SSA-Ops Photos
---
Revision Date: July 28, 2003