The BOREAS Information System
---
The Airborne Fluxes and Meteorology (AFM) Group
AFM Group Objectives
The overall objectives of this group, which include work with field measurements (aircraft, radar, lidar, profilers, soundings, mesonet) and models, are to:
Characterize by measurement and by model the evolution of the atmospheric boundary layer and the boundary layer fluxes of sensible heat, latent heat, momentum, and CO2 over the two BOREAS study areas and over a transect across the boreal forest zone (from near Saskatoon to an area northeast of Thompson).
Study and document the processes that link such fluxes from the local scale of surface measurements to the regional scale represented by the forest ecozone, and from the time spans of BOREAS measurements to those of global climate change.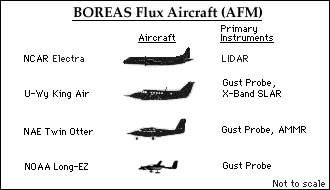 The BOREAS AFM Airforce
A List of BOREAS Research Aircraft is available with brief descriptions of their equipment. Note that the aircraft are divided into two groups; remote sensing (optical and microwave/gamma) and flux measurement.
BOREAS Field Campaigns 1994
Four aircraft were used to measure turbulent fluxes; sounding lidars and radars were also deployed. Ten mesometeorological stations and a dense array of upper air radiosounding stations operated over the region during 1994. The Global Telecommunications System was used to transmit data from this network to operational meteorological centers for assimilation. Several investigators, including some with strong links to these centers, are using mesoscale and global scale atmospheric models in their studies of surface-atmosphere interactions. View preliminary results from the AFM group.

For more information on AFM data, send e-mail to Keith Kaminsky,
the BORIS representative for the AFM group.
---
The AFM Teams
Click on a team name below to view information on a specific team's BOREAS activities.

AFM-1
Experimental and Modeling Studies of Water Vapor, Sensible Heat, and CO2 Exchange Over and Under a Boreal Forest
P.I.(s): Timothy L. Crawford -- NOAA Atmospheric Turbulence and Diffusion Division (ATDD)
Co-I(s): Dennis Badocchi, Robert McMillen, and Ronald Dobosy -- NOAA ATDD

AFM-2
Airborne Investigation of Biosphere -- Atmosphere Interactions Over the Boreal Forest
P.I.(s): Robert D. Kelly -- University of Wyoming
Co-I(s): Donald H. Lenschow -- National Center for Atmospheric Research (NCAR)

AFM-3
Airborne Investigation of Biosphere -- Atmosphere Interactions Over the Boreal Forest
P.I.(s): Donald H. Lenschow -- National Center for Atmospheric Research (NCAR); Robert D. Kelly -- University of Wyoming
Co-I(s):Steven Oncley, Ken Davis, Qing Wang, Jakob Mann, Andi Gietz, Gerhard Erhard, Christoff Kiemle, Al Cooper -- University of Wyoming

AFM-4
Areal Estimates of Mass and Energy Exchange from a Boreal Forest Biome
P.I.(s): J. Ian MacPherson -- National Research Council of Canada; R. Desjardins -- Agriculture Canada
Co-I(s): P.H. Schuepp -- McGill University; L. Mahrt -- Oregon State University; A. Betts -- Atmospheric Research

AFM-5
Upper Air Network
P.I.(s): Alan Barr -- Atmospheric Environmental Service (AES)

AFM-6
Outer-Boundary-Layer Effects on Surface Fluxes of Momentum, Heat, Moisture, and Greenhouse Gases from the Boreal Forest
P.I.(s): Robert Banta -- NOAA/Environmental Technology Laboratory
Co-I(s): W. Eberhard, James Wilczak, Brooks Martner -- NOAA

AFM-7
Mesonet Meteorological Data
P.I.(s): Stan Shewchuk -- Saskatchewan Research Council (SRC)
Co-I(s): Brett Smith, Heather Osborne, and Kim Young -- SRC

AFM-8
Boundary Layer Research for BOREAS
P.I.(s): Alan Betts -- Atmospheric Research
Co-I(s): Tong Hollingsworth -- European Centre for Medium Range Weather Forecasting (ECMWF)

AFM-9
Incorporation of Boreal Forest Ecosystem Description into Climate Modeling Framework
P.I.(s): Robert Dickinson -- University of Arizona
Co-I(s): Jim Shuttleworth -- Univ. of Arizona; L. Graumlich; Gordan Bonan -- NCAR; Ann Henderson-Sellers -- Macquarie Univ.

AFM-11
Fluxes Over Inhomogeneous Surfaces in BOREAS
P.I.(s): Larry Mahrt -- Oregon State University
Co-I(s): Robert Scanlan -- Oregon State Univ.; Ian MacPherson -- NRC; Robert Kelly -- Univ of Wyoming; Dennis Lenschow -- NCAR

AFM-12
Modeling Biosphere-Atmosphere interactions at Various Scales in Support of BOREAS
P.I.(s): Roger Pielke, Tsengdar J. Lee -- Colorado State University
Co-I(s): Tim Kittel -- Colorado State Univ.; Tom Loveland, Louis Steyaert -- USGS

AFM-13
Analysis and Interpretation of Airborne Flux Observations Over the BOREAS Sites
P.I.(s): Peter Schuepp -- McGill University
Co-I(s): Ian MacPherson -- NRC; Ray L. Desjardins -- Agric. Canada; Monique Y. Leclerc -- Univ. of Quebec

AFM-14
Use of Biophysical Models and Satellite Remote Sensing to Quantify the Climate/Land Surface Interactions Over a Boreal Forest Biome
P.I.(s): Piers J. Sellers, Forrest G. Hall -- NASA/Goddard Space Flight Center

AFM-15
Improvement of Boreal Forest Modelling in the CCC GCM
P.I.(s): Diana Verseghy -- Canadian Climate Centre
---
E-Mail a comment on this page to the curator

Send e-mail to Keith Kaminsky, the BORIS representative for the AFM group

Return to the BOREAS Science Groups Overview
Return to the BOREAS Home Page
Last Updated: October 20, 1997