The BOREAS Information System
---
Airborne Fluxes and Meteorology (AFM)
AFM-8: Boundary Layer Research for BOREAS

P.I.(s): Alan Betts -- Atmospheric Research
Co-I(s): Tony Hollingsworth -- European Centre for Medium Range Weather Forecasting (ECMWF)
Objectives: This is a modeling study designed to help us understand the diurnal evolution of convective boundary layer over the boreal forest. The approach is to analyze surface, boundary layer and cloud data from BOREAS using simplified conceptual models, and prepare compacted data bases for comparison with large-scale models. The PI assisted with the design of the surface and upper air networks, and the aircraft measurement program for BOREAS, and is working to optimize the boundary layer and mesoscale components of the experiment. The ECMWF GCM is also being used to perform post-analysis work.
---
AFM-8 Pictures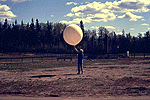 Radiosonde balloon launch at SSA-Ops
---
AFM-8 Data Sets
Boundary Layer Modeling
Get some AFM-8 data using FTP (BOREAS Investigators only, password required). [FTP Help]
---
Click on a team designation to go to that page.
AFM Overview || AFM-1 | AFM-2 | AFM-3 | AFM-4 | AFM-5 | AFM-6
AFM-7 | AFM-8 | AFM-9 | AFM-11 | AFM-12 | AFM-13 | AFM-14 | AFM-15
---

Send a data request to the BOREAS Data Manager (BOREAS Investigators only)
E-Mail a comment on this page to the curator


Send e-mail to Keith Kaminsky, the BORIS representative for the AFM group

Return to the AFM Overview
Return to the BOREAS Science Groups Overview
Return to the BOREAS Home Page
Last Updated: October 20, 1997