The BOREAS Information System
---
Airborne Fluxes and Meteorology (AFM)
AFM-13: Analysis and Interpretation of Airborne Flux Observations Over the BOREAS Sites

P.I.(s): Peter Schuepp -- McGill University
Co-I(s): Ian MacPherson -- NRC; Ray L. Desjardins -- Agric. Canada; Monique Y. Leclerc -- Univ. of Quebec
Objectives: In this modeling and analysis study, NRC Twin Otter data and TF data are being analyzed to define realistic footprint functions over the BOREAS sites, so that airborne observations are related to the correct ground surface with its biological and ecological characteristics. This permits site-wise and inter-site "mapping" of the exchange of momentum, heat, moisture, CO2, CH4, and O3 (and maybe NMHCs). The effects of intermittent cloudiness on the structure of turbulent transfer and its effects on airborne flux mapping are also being studied.
---
AFM-13 Pictures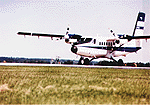 The NRC Twin Otter
---
AFM-13 Data Sets
Aircraft Flux Analyses (Schuepp)
Get some AFM-13 data using FTP (BOREAS Investigators only, password required). [FTP Help]
---
Click on a team designation to go to that page.
AFM Overview || AFM-1 | AFM-2 | AFM-3 | AFM-4 | AFM-5 | AFM-6
AFM-7 | AFM-8 | AFM-9 | AFM-11 | AFM-12 | AFM-13 | AFM-14 | AFM-15
---

Send a data request to the BOREAS Data Manager (BOREAS Investigators only)
E-Mail a comment on this page to the curator


Send e-mail to Keith Kaminsky, the BORIS representative for the AFM group

Return to the AFM Overview
Return to the BOREAS Science Groups Overview
Return to the BOREAS Home Page
Last Updated: October 20, 1997