Model Archive
The Model Archive provides the methodological detail in numerical modeling studies needed to ensure the long-term reproducibility of experimental results. Because numerical models evolve continuously over time, the most complete description of many numerical models is the specific version of the model itself used in a particular manuscript. The rationale and approach for the Model Archive is presented in Thornton et al. (2005)
.
The Model Archive at the ORNL DAAC serves three distinct purposes:
A long-term, stable archive for release of benchmark model versions, including the associated documentation as well as example inputs and outputs.
Archive of a model associated with a published research manuscript including model code, boundary conditions, parameterizations, and any analysis routines required to reproduce the published results.
Archive of key data processing algorithms used to generate data sets, including well-documented code, and example inputs and outputs.
Current archived model products
Biogeochemical process models
Biosphere simulation models
Ecosystem process and response models
Land surface models
Scalable vegetation models
Interested in submitting your model for archival? Check out our Data Management for Data Providers pages.
Get Model Archive Data
Find and order Model Archive data sets:
Example Model Archive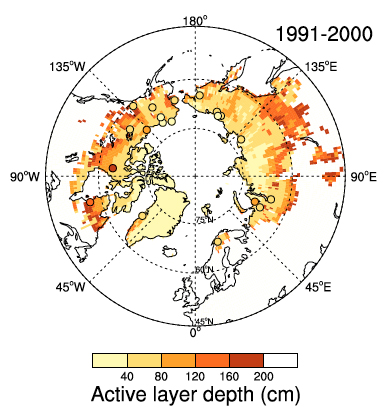 The Lund-Potsdam-Jena Wetland Hydrology and Methane DGV Model (LPJ-WHyMe v1.3.1) simulates peatland hydrology, permafrost dynamics, peatland vegetation, and methane emissions.
Other Model Archive Resources
---