Overview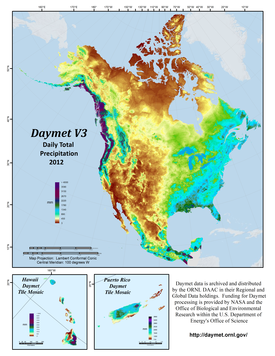 Daymet is a collection of gridded estimates of daily weather parameters generated by interpolation and extrapolation from daily meteorological observations. Weather parameters in Daymet include daily surfaces of minimum and maximum temperature, precipitation, humidity, radiation, snow water equivalent, and day length produced on a 1 km x 1 km gridded surface over North America, Puerto Rico, and Hawaii.
---
Daymet Data Sets List
Sign in to download Daymet data sets.
Beginning the Daymet dataset list
---
* - Sign in to order Daymet data sets.