The BOREAS Information System
---
Trace Gas Biogeochemistry (TGB)
TGB-4: The Fluxes of Energy and Trace Gases from Beaver Ponds and Dry Upland Forest Floor in the NSA

P.I.(s): Nigel T. Roulet -- York University
Objectives: To quantify the exchange of heat, water, and CH4 between boreal forest beaver ponds and the atmosphere for the ice free period of BOREAS. The fluxes of heat, water and CO2 from one beaver pond was measured continuously using the energy balance Bowen ratio approach. The diffuse and bubble flux CH4 was measured several times a week using chambers. The chamber approach was used to sample CO2 and CH4 flux from 4 to 5 additional beaver ponds, once every two weeks, and regional survey of the surface concentrations of CO2, CH4, and DOC were carried out on accessible beaver ponds. The results of this work will be extrapolated from the local to regional scale in collaboration with the remote sensing project of J. Miller (RSS-19).


The secondary objective of this research is to study the soil climate and soil characteristics at a forest site in conjunction with the flux studies of P. Crill (TGB-1). Soil moisture and temperatures were measured continuously, and soil porosity will be determined.
Location: NSA, NSA Beaver Pond (BP)
---
TGB-4 Pictures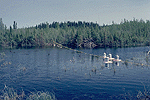 The TGB gas collectors on the NSA beaver pond
---
TGB-4 Data Sets
Gas Flux CH4
Gas Flux CO2
Gas Flux N2O
Soil Profile CH4
Soil Profile CO2
Substrate Water Table
Substrate Sediment Temp
Moisture Profiles-TDR
Get some TGB-4 data using FTP (BOREAS Investigators only, password required). [FTP Help]
---
Click on a team designation to go to that page.
TGB Overview || TGB-1 | TGB-3 | TGB-4 | TGB-5 | TGB-6 | TGB-7 | TGB-8 | TGB-9 | TGB-10 | TGB-12
---

Send a data request to the BOREAS Data Manager (BOREAS Investigators only)
E-Mail a comment on this page to the curator


Send e-mail to Sara Golightley, the BORIS representative for the TGB group

Return to the TGB Overview
Return to the BOREAS Science Groups Overview
Return to the BOREAS Home Page
Last Updated: March 12, 1999