The BOREAS Information System
---
Hydrology (HYD)
HYD-4: Determination of Snow Cover Variations in the Boreal Forest Using Passive Microwave Radiometry

P.I.(s): Barry E. Goodison, Ann E. Walker -- Atmospheric Environment Service (AES), Climate and Atmospheric Research Directorate
Objectives: To investigate snow cover variations within and between the BOREAS study areas using passive microwave radiometry. It involves algorithm development and validation to derive snow water equivalent and extent from passive microwave radiometer data, incorporating variations in surface land cover. Co-incident airborne microwave radiometer (Twin Otter) and airborne gamma Snow Water Equivalent (SWE) observations are critical to algorithm development. Ground, airborne, and satellite data will facilitate scaling up to the satellite resolution. The effects of forest cover (density, type) on snow cover retrievals will be assessed and incorporated in the determination of snow cover variability. The use of passive microwave data in combination with optical and thermal IR data to improve snow cover retrievals will be explored in conjunction with RSS-19 Airborne radiometer flights during dry snow conditions are mandatory; flights during a wet snow condition are desirable as well. The flights were mandatory during the winter FFC. The airborne radiometer and airborne gamma were not flown during the FFC-T.
---
HYD-4 Pictures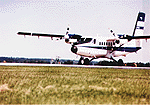 The NRC Twin Otter
---
HYD-4 Data Sets
Standard Snow Course
Special Snow Course
SWE from satellite microwave
Get some HYD-4 data using FTP (BOREAS Investigators only, password required). [FTP Help]

View more information on HYD-4 results.
---
Click on a team designation to go to that page.
HYD Overview || HYD-1 | HYD-2 | HYD-3 | HYD-4 | HYD-5 | HYD-6 | HYD-8 | HYD-9
---

Send a data request to the BOREAS Data Manager (BOREAS Investigators only)
E-Mail a comment on this page to the curator


Send e-mail to Dave Knapp, the BORIS representative for the HYD group

Return to the HYD Overview
Return to the BOREAS Science Groups Overview
Return to the BOREAS Home Page
Last Updated: October 21, 1997