The BOREAS Information System
---
Hydrology (HYD)
HYD-9: From Micro-Scale to Meso-Scale Snowmelt, Soil Moisture and Evapotranspiration from Distributed Hydrologic Models

P.I.(s): Ric D. Soulis -- University of Waterloo
Co-I(s): Michael Jasinski -- NASA/GSFC; G. Kite -- National Hydrology Research Institute; Nicholas Kouwen -- Univ. of Waterloo; Robert Leconte -- Univ. of Quebec a` Monteal; Dennis Lettenmaier -- Univ. of Washington; Danny Marks -- USGS
Objectives: This project seeks to identify, through field measurements and computer modeling, the space-time distribution of meltwater supply to the soil during the spring melt period, and the evolution of soil moisture, evaporation, and runoff from the end of the snowmelt period through freeze-up. The snow modeling activity consists of two components: The first makes use of existing, "off-the-shelf" models to forecast the onset and spatial extent of snowmelt and meltwater supply to the soil column prior to the 1994 IFCs. The second phase extends, implements, and verifies a physically based energy balance snowmelt model of the two sites, and evaluates approaches to aggregating snowmelt predictions and measurements based on the model to large scales, up to the size of a rectangle of several hundred km containing the northern and southern sites. The soil moisture modeling is being conducted by Soulis and Engman, based on a grouped response unit method, and allows characterization of soil moisture, evaporation, and runoff for the entire northern and southern sites. The primary external data requirements of the project are for:
winter period surface meteorological and energy flux data
high quality DEM data
vegetation characterization, at the scale of the DEM
supplemental snow-free period precipitation data at the local (hillslope) scale, perhaps along selected transects
---
HYD-9 Pictures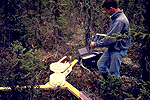 Rain gauge at SSA-OBS
---
HYD-9 Data Sets
Rain Gauge
Stream Gauging
Radar Precipitation
Standpipe Observation
Get some HYD-9 data using FTP (BOREAS Investigators only, password required). [FTP Help]
---
HYD-9 BOREAS Operations in 1994

Data Collected and Equipment Used:
A C-band weather radar logging rain coverage.
Places and Times of Measurements:
The radar operated from May 12 to Sept. 23, 1994 from a location 7 km southeast of Paddockwood, scanning a circle of 220 km radius.
---
Click on a team designation to go to that page.
HYD Overview || HYD-1 | HYD-2 | HYD-3 | HYD-4 | HYD-5 | HYD-6 | HYD-8 | HYD-9
---

Send a data request to the BOREAS Data Manager (BOREAS Investigators only)
E-Mail a comment on this page to the curator


Send e-mail to Dave Knapp, the BORIS representative for the HYD group

Return to the HYD Overview
Return to the BOREAS Science Groups Overview
Return to the BOREAS Home Page
Last Updated: October 21, 1997